The Center is launching an effort to provide free education on social change action.
The Center exists to advance social change in human rights, public health, education and more. Most funds come from training and members.
NOW, The Center is launching an effort to provide free education on social change action to small grassroots nonprofits, volunteers and those without resources who struggle to be effective.
Every dollar you contribute will be matched by an hour of donated staff time to double the groups being reached.
Please assist the Center in its goal to expand free service to those who cannot pay to receive education and networking opportunities to ensure that social change activities are inclusive and well done.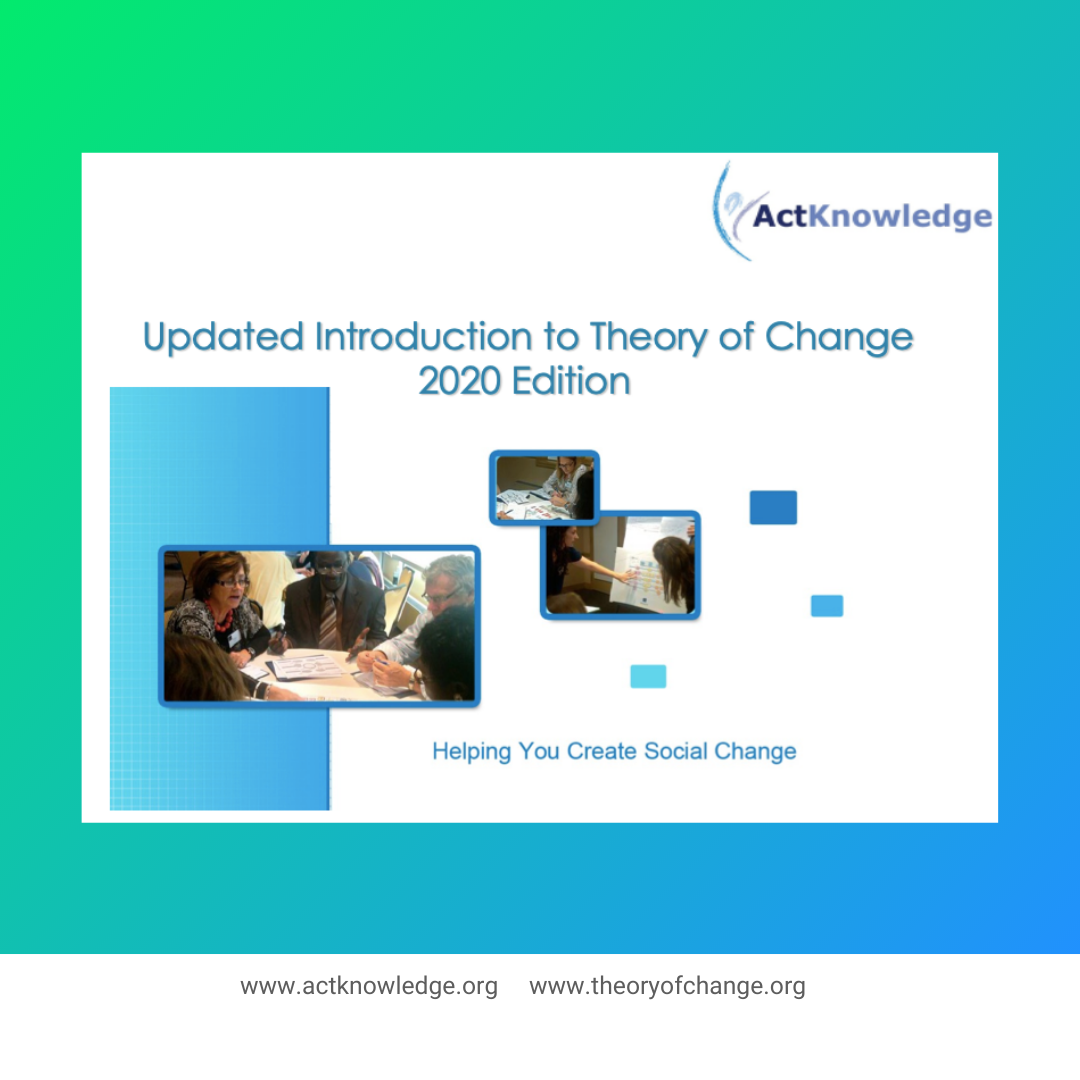 INTRODUCTION TO THEORY OF CHANGE UPDATED 2020 $29*
(*limited time price. Dec 1st pricing goes up to $35 – Free for partners)
NEW! Everything you need to know about Theory of Change and how to build one in a short and easy webinar.  Listen at your leisure.
Welcome to The Center for Theory of Change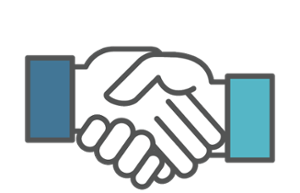 Become a Center for Theory of Change partner and get access to experts, trainings and more!
| | | | | | |
| --- | --- | --- | --- | --- | --- |
| Anne Bramble | Business901 | Global Public Policy Institute | Thames Valley District School Board | Austria Recycling | Beth Stockton Consulting |
| University of Technology Jamaica | Customs and Border Management Services LLC | Citizens for Global Solutions | Homes First | KW Research & Associates ltd | Alisa Ann Ruch Burn Foundation |
| Paschall Consultants | Vanrose Therapy and Consulting | Public Health Services – Department of Health | Lumenance Consulting LLC | Richard Carter and Associates Ltd | R. Keith Jones & Associates, Challenge Dialogue System Network |
| Federation of Community Legal Centres | Circles of Change | James Cook University – College of Business, Law & Governance | CROP | African Development Bank Project | Human Rethink |
Access TOCO software.
Theory of Change Online (TOCO) is the only web-based software (no download required) that you can use to design and edit and store your Theory of Change, learn the concepts of theory of change, and capture your outcomes, indicators, rationales and assumptions in an interactive graphical environment.
TOCO IS UNDERGOING ITS FIRST MAJOR UPGRADE!
We will suspend new trial subscriptions of the current version as of December 1st, 2020. 
Premium users will be automatically upgraded as new TOCO comes on line.  NO WORK WILL BE LOST DURING TRANSITION.
New and existing Premium Users may be notified off times TOCO will be offline at the end of the year to install the new version, and all yearly subscriptions will be extended for any down time. 
We'll post more information on the new version soon and provide advance notice of any time TOCO will not be available.
You'll love the new TOCO. Many upgrades come from your suggestions.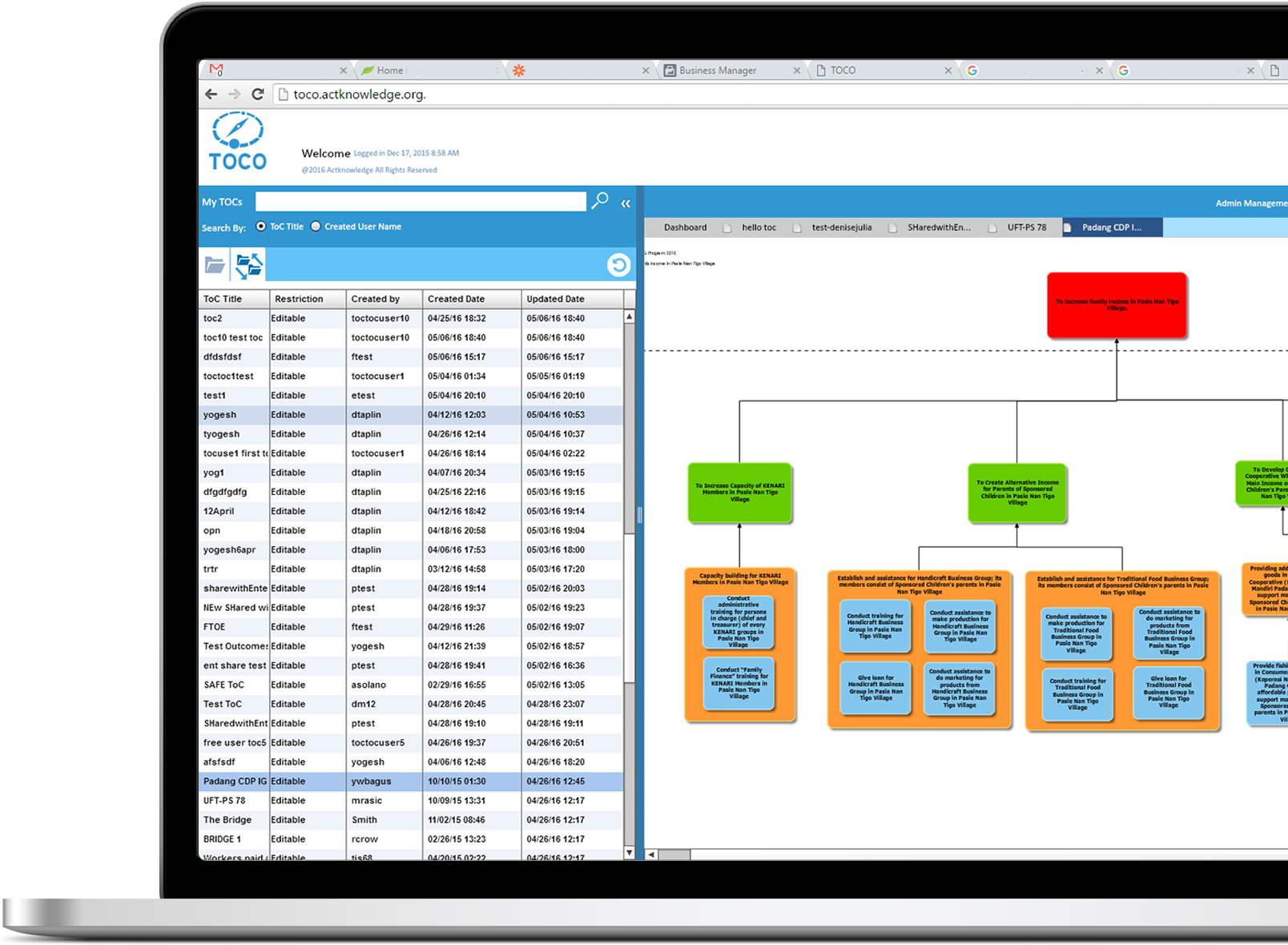 Theory of Change Japan
We are delighted to announce the establishment of Theory of Change Japan (ToCJ), the Japanese affiliate of the Center for Theory of Change. This couldn't have happened without the drive of founding Directors Yutaka Tanabe and Motoi Kawabata. Eoin Collins, Director of the Center for Theory of Change in New York is also a director of the new affiliate.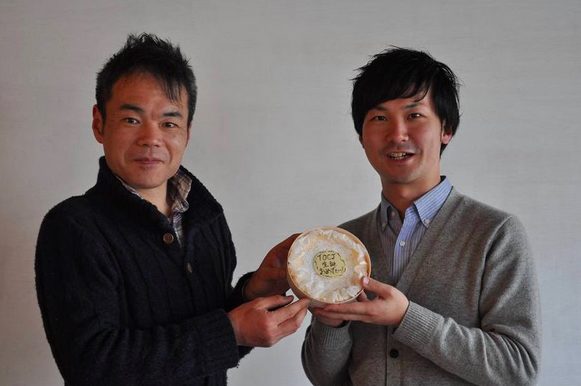 The Center for Theory of Change is a non-profit organization established to promote quality standards and best practice for the development and implementation of Theory of Change, with a particular focus on its use and application in the areas of international development, sustainability, education, human rights and social change. Theory of Change has the power to radically enhance the capacity of social change organizations and initiatives to achieve their goals and demonstrate their impact. It grounds planning and strategy in the reality and evidence base of what is necessary to achieve change. Theory of Change is also critical to evaluation, providing a framework that allows organizations to know what to evaluate and when. It builds on – and can usefully incorporate data gathered through – other approaches that have been developed to improve planning and evaluation, including 'logic models/logframes' and 'results frames'.